Setting the Standard for Quality Roof Repair and Replacement in Spring Hill, FL
Spring Hill, FL's Reputable Roofing Contractor
Picking the right roofing contractor for your roofing project can be a challenge. How do you know which one is right? Experience matters. Responsiveness matters. Value matters. Perhaps most important, reputation matters.
For over 35 years, Central Florida homeowners have trusted Alan's Roofing. We answer your call promptly, offer high-quality roofing services and products at an affordable price, and perform our work courteously, knowledgeably, and professionally. More homeowners choose us if they want the job done right the first time. As an added layer of customer protection, we offer both a manufacturer and workmanship warranty.
The Residential Roof Repair and Replacement Experts
In recent years, Spring Hill has blossomed into a thriving community full of opportunities to work, live, and play. Whether you enjoy hiking, fishing, golfing, or swimming at the water park, this community has something for everyone. Residents appreciate Spring Hill's proximity to other major cities, including Tampa, St. Petersburg, Orlando, and Fort Myers. Above all, Spring Hill has a high livability factor.
Alan's Roofing is the leader in roof repair and replacement. No matter what type of roof you have or need, we are trained and certified to handle your roofing project knowledgeably and proficiently. As an Owens Corning Platinum Preferred Contractor, we offer a broad range of products and styles to ensure your new roof meets your specifications.
We work with the following types of roofs:
If you want more information about any roofing alternative, contact us today to learn more. We would love to help.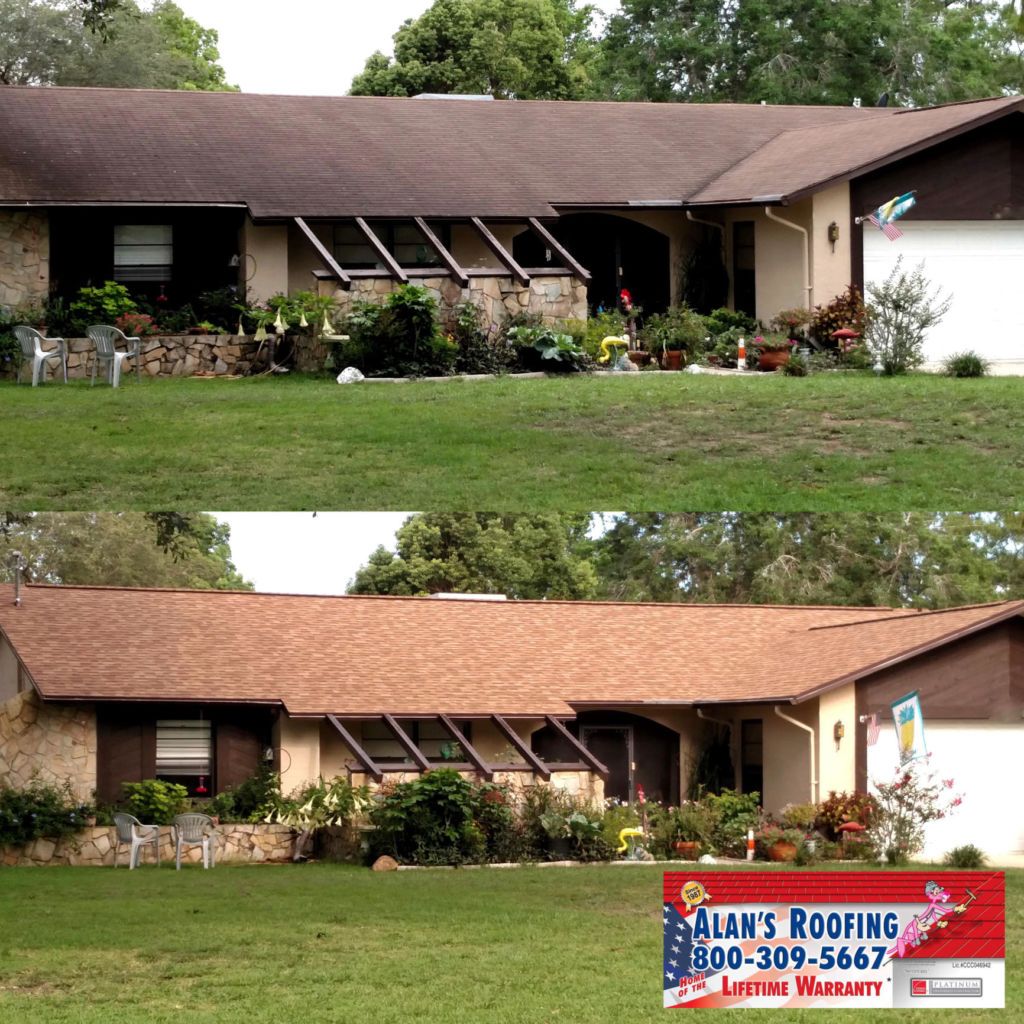 Roof Inspection Services to Precisely Pinpoint the Problem
Not all roof inspections provide the depth of analysis we offer at Alan's Roofing. In fact, many roofing inspections never go beyond the surface level in an attempt to identify the source of a problem.
We are different. When inspecting your roof, we evaluate your entire roofing system. Our inspection services study the underlayment, the flashing, the gutters, the venting, the structural basis, and anything else that might be the roof cause behind a leak or failing roof. When we complete our work, you will know precisely what the issue is and the options to resolve that issue.
The Commercial Roofer More Spring Hill, FL Businesses Trust
If you own or operate a commercial building or multifamily complex, we can help. Whether you are responsible for a condominium, apartment, or townhouse, we are your reliable partner to assist with all your roofing needs. Alan's Roofing is the professional that professionals trust to ensure they receive responsive service, no matter what happens.

You don't have time to waste in a roofing emergency. You need a roofer who is available 24 hours a day. We will quickly mitigate your roof's situation from further damage and work closely with you to ensure that your roof repair is completed promptly.